Follow Us On Social Media
The University Of Ghana Online Application process is well explained in the STEPS below. Thus patiently follow the guideline below to apply for admission at UG – Legon.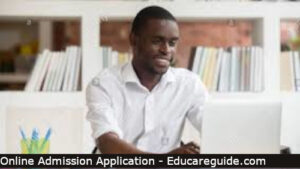 The University Of Ghana Online Application Form is what you current need to buy in order to apply for admission at Legon.
Previously, applicants use the manual system of completing and submitting admission forms to Legon.
However, in recent times, the University of Ghana uses the online application platform to process the admission of its students.
Henceforth, Educareguide is going to give you every detail on how you can apply for admission at University of Ghana.
In the first place, what are some of things you need to know about the UG online application process? Just continue to read on.
How Do I Get Admission To Legon?
Now, there are things you need to know about how to apply for Legon Admission Online. Certainly, you will find them all in this very important Legon application guide.
Indeed, some very importance information you should know about the university's online application method, are as follows:
First of all, you have to buy an e-Voucher from one of the designated outlets throughout Ghana.
Nevertheless, applicants who live close to the UG Legon campus, can go to the university administration to buy the voucher.
Now, what are some of the places that you can buy your Legon online application form voucher from? Certainly, you can check the answer below.
Places You Can Buy Legon Online Application Forms
Now, what are the outlets that you can purchase UG forms from?
Indeed, you can buy University of Ghana Form voucher from the following outlets:
Ecobank
Republic Bank
Agricultural Development Bank 
Ghana Commercial Bank
Zenith Bank, Universal Merchant Bank
Consolidated Bank Ghana(CBG)
Prudential Bank and Fidelity Bank
Secondly, you the consider the issue of the cost of Legon forms.
How Much Is Legon Forms 2021?
The the online application forms was sold for GHC200 in the 2020 admission. Therefore, I am estimating that, it will cost at most GH250 for the 2020-2021 admission.
Furthermore, upon buying the forms, you must get very important facilities in place before you can fill and submit the online application forms. Lets find out some of the things you will need.
Things You Need To Fill The University Of Ghana Online Application Form
First, you need a Computer. Thus, it can be a desktop or a laptop.
Secondly, you need an internet connection. You must have a very good and stable network to fill and send the application.
Thirdly, you need a printer to be connected and installed on the computer. In fact, check if the printer is working perfectly, before you start the application process.
Let's now look at key information you will need to fill the form.
Important Information You Will Need To Fill The Application Forms
As a matter of fact, many applicants do not fill the forms in their homes. They rely on internet cafes and business centers to fill the forms.
For this reason, be informed that, you should gather all the documents relevant to the application process and send them to where you will fill the form.
For example, some of the documents includes your weac  result slip.
Also, do not forget to have your relevant personal information with you.
Completing The Application Process
Finally, when you are done with the application, please print out the endorsement forms.
Next, you will need to send the forms to a reputable person in the society to endorse you and be your referee.
For example, such persons include, a medical doctor, a headmaster or principal of a school, the clergy, a lawyer, etc.
After that, you will need to post the filled forms to the address directed on it. You can also send it personally to the university if its comfortable to you.
Legon Admission Deadline
What is the admission deadline for Legon? The University of Ghana admission application deadline for the the 2021 is expected to be 31st May, 2021.
However, this deadline may change with regards any government directive on covid-19 situation in Ghana.
Nevertheless, all things being equal, we all do hope that everything goes on smoothly for students the academic calendar to go smoothly as scheduled.
Check out other relevant information which relates to University Of Ghana Online Application below.
You Might Have Interest In The Following As Well:
Conclusion:
I believe Educareguide has been of help to you with regards to your subject of concern. Also there are many other contents we have available to help you in your education.
Furthermore, if there is any contribution/comment/concern that you would want to make, it is warmly welcome on our site. Simply proceed to use the comment section on the sidebar to submit your post.
Now, please, subscribe to Educareguide and contact us for further assistance for your education. Finally, fill the contact form on the side bar to reach us.
Nevertheless, do not forget to pass a comment in the comment section below. Indeed, we will gladly appreciate to know how you think about this article. Thanks.
Share With Others