Follow Us On Social Media
The following courses are offered in University of Cape Coast – UCC to applicants seeking to read degree programs at the university. Thus,  Check out the details of these UCC Programs and their Cut Off Points below.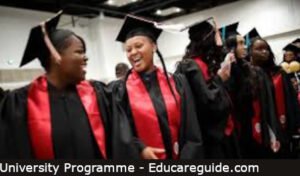 As a matter of fact, there are various course options  that UCC applicants  can read for first degree at University of Cape Coast.
In other words, there are many courses offered in UCC for undergraduate program applicants.
Very importantly, you need to carefully study this guide if you want to apply for admission at UCC.
Certainly, you will find all the courses and programs that you want to study at UCC in the list below.
UCC Courses And Requirements
Truly, the University of Cape Coast courses listed below come with specific admission requirements.
Also, you will find out that the UCC courses an requirements are listed on College and faculty basis.
List Of Courses Offered At UCC 2021
Normally, University of Cape Coast updates the list of courses it offers to applicant form time to time.
Thus, Educareguide has taken it as a duty to regularly update you on the current programs that ucc offer to students.
Now Find out the checklist of courses offered in UCC below:
UCC Courses At College of Humanities and Legal Studies
A Anthropology
A Classics and Philosophy
A Communication Studies
A Dance
A Economics
A English
UCC Courses At College of Education Studies
Ed Health, Physical Education and Recreation
Ed Arts
Ed Basic Education
Ed Computer Science
Ed Early Childhood Education
Ed Guidance and Counselling
UCC Courses At College of Agriculture and Natural Sciences
BSc Entomology and Wildlife
BSc Agribusiness
BSc Actuarial Science
BSc Agricultural Extension
BSc Agricultural Extension And Community Development
BSc Agriculture
BSc Agro-Processing
BSc Biochemistry
UCC Courses At College of Health and Allied Sciences
BSc Community Mental Health Nursing
BSc Mental Health Nursing
BSc Nursing
As can be seen from above, the University of Cape Coast Offers a wide range of programs to undergraduate students.
UCC Courses And Cut Off Points
Certainly, the above information show courses offered at UCC for the 2021 academic year.
In addition to that, Educareguide has compiled all the courses offered at UCC and cut off point corresponding to them in out other guide.
Therefore click HERE to find out  the cut off points associated with the courses at University of Cape Coast.
Also, bookmark and stay glued to our website for any latest news and updates regarding everything at University of Cape Coast.
You Might Have Interest In The Following As Well:
Conclusion:
I believe Educareguide has been of help to you with regards to your subject of concern. Also there are many other contents we have available to help you in your education.
Furthermore, if there is any contribution/comment/concern that you would want to make, it is warmly welcome on our site. Simply proceed to Login/Register to submit your post.
Now, please, subscribe to Educareguide and contact us for further assistance for your education. Finally, fill the contact form on the side bar to reach us.
Nevertheless, do not forget to pass a comment in the comment section below. Indeed, we will gladly appreciate to know how you think about this article. Thanks.
Share With Others