Follow Us On Social Media
The Management of Wesley Girls' High School gives the following school prospectus to SHS1 students for the 2021 academic year.
As a matter of fact, Wesley Girls' SHS is a girls boarding school. In recent years, they admit day school children as well.
Emphatically speaking, the free SHS policy does  not cover the items listed below.
However, I must say that, the government may absorb some these items as time goes on.
Definitely, Educareguide will keep you updated whenever there is an update.
This means that, the government will not provide these items to the school children.
As a result, parent should buy these things for their words.
In fact, the free SHS policy is a government scholarship for children at public Senior High Schools in Ghana.
Thus, parent must buy these items for the their wards placed in SHS in Ghana. 
Certainly, these items are for personal use by the student at the school. 
Wey Gey Hey Prospectus 2021
Before we look at the list of items into detail, parent must take note of the following important information:
Each student must undergo a thorough medical examination and submit the report to the school at the beginning of every academic year.
Parents who have wards with chronic medical conditions should come to meet the medical team of the school for discussions on the management of the condition.
Girls are not supposed to keep drugs on them. All medicines (including herbal ones) are to be deposited at the dispensary for the Nurse to monitor their administration. Asthmatic patients however may keep their drugs.
When girls are taken home from school for medical attention they must return with a full report of the condition and the treatment given for the school medical team to do a follow-up.
Students who consistently refuse to report to the school medical team in case of illness will be dealt with.
Parents who do not want the school medical team to attend to their wards must indicate this by writing to the school. They are however advised to locate their wards close to the preferred medical personnel so that they (their wards) can be given quick attention, especially in case of emergency.
Indeed, that's not all, therefore note the following as well.
Hair Style:
Girls are not allowed to plait their hair. They should keep it short.  Hair should not be permed or straightened or curled. NB: Curled and permed hair will be cut.
Clothing:
The school does not have a prescribed housedress. Girls are allowed to wear their own housedresses. However, clothing should be simple, decent and washable. At least one outfifit should be suitable for use during cleaning.
Security:
The fence wall around the school is fairly low. Boys from surrounding villages can therefore scale over the wall into the school from time to time to pilfer.
Girls should help to maintain security in the school by always ensuring that their boxes, trunks, suitcases, dormitories, pantries and classrooms are locked up when no in use.
Pocket Money:
Parents/guardians can provide pocket money for their wards. The amount must be reasonable; we do not encourage extravagance.
The money is paid into an account (specially opened by the school for that purpose) from which Girls can withdraw on request.
Girls are not allowed to keep more than GH¢20.00 (Twenty Ghana Cedis) on them at any given time. Extra pocket money requested must be used immediately for the purpose for which it was requested.
N.B.: In general, costs are high. We do not encourage unnecessary spending. Girls should be reminded to be economical in their use of money.
Transport Money:
Parents are to provide transport money for their daughters/wards. This can be paid separately at the accounts office.
It is important that the money is made available early enough to be paid to State Transport Company to ensure proper arrangements for students' return home.
On the other hand, parents can make other transport arrangements for their daughters/wards.
Unaccepted Items For Admission – SHS
Student shouldn't bring the following items to the school.
In order words, these items are regarded as unprescribed things at Wesley Girls' School.
In as much as you shouldn't bring the following things to Wesley Girls' Senior High School, you can bring drugs under the regulations below:
Drugs & Health Care:
Girls cannot keep medicines on them, except those who are asthmatic. All medicines should be deposited at the School's Dispensary. The school has a Visiting Doctor and Four Nurses one of whom is resident.
The Visiting Doctor visits the sickbay two times a week apart from other emergencies.
N.B. Donations for drugs (anti-malaria, antibiotics, vitamins, painkillers, antacids, milk of magnesia, disposable syringes and needles etc.) are welcome.
Mobile Phones:
Girls are not allowed to bring mobile phones to school. Any girl found with mobile phone will face severe sanctions.
Prospectus For Wesley Girls' High School Students
As a matter of fact, first year students at Wesley Girls' High Schools in 2021 academic year must present the following items for inspection during admission:
Bible
Methodist Hymn Book
English Dictionary
Calculator
Mathematical Set
Brown papers (enough to cover all exercise books)
Writing paper, envelopes and stamps
Passport size photographs
Photocopy of B.E.C.E. Results
Photocopy of Birth Certificate
1Scrubbing brush,
2 Pieces of flannel rags for dusting
Working attire (1 T-Shirt and Shorts below the knee)
2 Brooms
1 Hoe
Trunk or Suitcase with her name printed on it.
Small chop-box (60cm x45cm x30cm is large enough) with
her name clearly printed on it.
Brown play deck sandals for school
Pair of church shoes (black flat shoes)
Pair of white sneakers for P.E. (all white)
Pairs of white socks.
Chapel attire: Slit and Kaba (Blue and white wax print.
(Sewn in a simple style)
House attire: (dresses or blouses, white T-Shirts,
skirts/trousers – not more than six)
Green Cardigan
Underwear (to include panties, underskirts/undershorts and
brassieres)
Night Gowns /_Pyjamas and house coats
Pair of slippers (knock-about)
Flip-flops (bathroom Slippers)
Leather covered mattress and pillow
Bed sheets (Plain white)
Pillow cases (Plain white)
White Mosquito Net (preferably treated)
Sleeping cloth
Blanket
Towels
Sponge
Electric Iron (3 pin plug) no other electronic or electrical
gadgets
Raincoat/Umbrella
Toiletries eg. Toilet roll, soap, toothpaste, sanitary towels –
as required for a semester
Old newspapers (to wrap up sanitary towel
Plastic cloth hangers
A Set of pegs
White T- Shirts
Plastic Buckets with covers
Pail
Crockery Bag
Cutlery Bag
Set of cutlery (fork, desert spoon, table knife, teaspoon)
Cup and saucer (Plastic), Plates, Napkins
Sewing Kits for mending clothes (Pair of Scissors, 1
thimble, Tape Measure, Needles and Pins
Threads (Green, white and black)
Handkerchiefs
Alcohol hand-based sanitizers and nose masks
Take note that all the following as well:
Items should be well labelled before they are presented for inspection.
The six house dresses should include a pair of jeans trousers and a pair of shorts.
Girls should bring three each of the following items:

towels
bedsheets
pillow cases
night gowns/pajamas

Green cardigans should have buttons in front.
Dress Code Samples Of Design
Blue & White Chapel Clothe – Wesley Girls' Slit & Kaba Style
Sample of Playdeck Sandals – Wey Gey Hey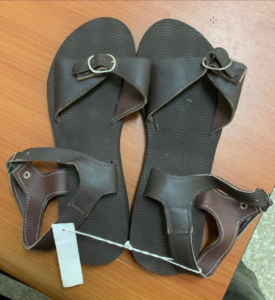 Samples of Crockery Bag – Wey Gey Hey
Notably, Wesley Girls' High School reserves the right to update the prospectus above at anytime.
Thus, you should realize that, the prospectus for Wesley Girls' High Schools above, may slightly change from time to time due to prevailing circumstances.
Indeed, you should confirm and cross check specifically from the school before you proceed to make procurements.
Definitely, GES allows Wesley Girls' to vary the Wesley Girls' High school prospectus slightly to suit the environmental factors in the schools.
You Might Have Interest In The Following As Well:
Conclusion:
I believe Educareguide has been of help to you with regards to your subject of concern. Also there are many other contents we have available to help you in your education.
Furthermore, if there is any contribution/comment/concern that you would want to make, it is warmly welcome on our site. Simply proceed to Login/Register to submit your post.
Now, please, subscribe to Educareguide and contact us for further assistance for your education. Finally, fill the contact form on the side bar to reach us.
Nevertheless, do not forget to pass a comment in the comment section below. Indeed, we will gladly appreciate to know how you think about this article. Thanks.
Share With Others