As part of the series of incidences in the 2020 WASSCE examination is the WASSCE Core Maths, Social Studies, Chemistry Leakage.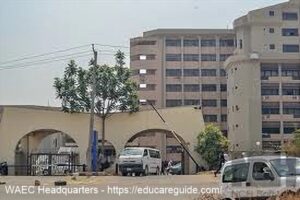 Indeed, this years WASSCE examination has been tinted with a lot negative news. Just a while ago, The GES sanctioned some students for unpardonable behaviors .
As a matter of fact, some even went ahead to insult the President of the republic Ghana, after they realized a supposed APOR did not drop.
Now, as to whether that was an Apor or not, we leave to the determination to Ghanaians. Realizing that incidence, Educareguide did a complete analysis of what happened and  gave our readers detailed insight.
In addition to that, critical papers such as Core Mathematics, Social Studies and Elective Chemistry have leaked. Now, what has accounted for the WASSCE Maths, Social Leakage? Just read on.
Click For The Summary Of This Guide
Core Mathematics, Social Studies And Elective Chemistry Leaks
The 2020 WASSCE examination question in Core Mathematics, Social Students and Elective Chemistry Leaked as a result many factors.
First, let's understand the fact that, the 2020 WASSCE exams is highly political. This is because, the first batch of the free SHS students are these candidates.
The free SHS is the Government of Ghana's  policy on senior high school education or otherwise popularly known in Ghanaian politics as "FREE SHS".
In fact, if you could recall, many people believe that the NPP government free SHS policy will affect educational standards.
Thus, people believe that, quality has been sacrificed for quantity. Truly, speaking the government intends to prove that the opposition is wrong whiles the opposition also wants to proof the government is wrong.
That is why the 2020 WASSCE examination has become a political football between the ruling NPP and the opposition NDC. Meanwhile, who really is to blame for the WASSCE Maths, Social , Leakage? Let's find out.
Who Is To Blame For The Examination Leakages?
First of all, let us focus our attention on the phenomena of examination in determining success of students in Ghana. Truly, looking at Ghana, it looks as if everything in life determined by certificate and not knowledge.
In as much as certificate is good, some emphasis must also be place practicals. A final examination alone should not determine a students grade in three years. However it should only be part of the determination.
In fact, one off examination really affects a student if something goes wrong on that examination day. For this reason, parents do everything possible to makes sure that their children gain an advantage in the exams.
As part of many other things, parent buy exams question from WAEC "APOR" for their wards. Now, who sells these APOH to the parents.
Truly speaking, it is WAEC officials who sell these Apor to the parent. How has WAEC responded to these allegations labelled against it? Find out below:
WAEC's Response To Allegations Of Exams Leakage
This is not the only incidence of examination leakage from WAEC.
In fact, over the years, though WAEC would not intentionally leak leak its questions, officials and workers of WAEC would go to every extent to leak exams questions.
Now, why do these WAEC employees go ahead to leak WASSCE examination questions. Indeed, the leak these questions for monetary gains.
To emphasize that, you realize that there is a saying that money makes the world goes around. Notably, if corruption has a twin brother, that brother may be an African or a Ghanaian.
Indeed, corruption determines almost everything in Ghana, even including who becomes the bishop of church.
Consequently, it is not surprising to note that, a WAEC worker would take bribe to leak an examination question.
Factually speaking, it is only a reflection of the decay in the Ghanaian society.
What roles do managers and owners of educational institutions also play in this corruption exercise?
The Role Of Managers And Owners Of Senior High Schools
We can never talk about this phenomena without talking about the role that tutors, managers and owners of educational institutions play.
Indeed, it is not out of place for a teacher, manager, an owner of a Senior High Schools to desire for the students to succeed academically.
However, it is absolutely wrong to want to use any foul means possible to realize this aim. Owner and managers of schools sometimes, go to an extent to buy exams questions for their students to excel in examination.
In fact, some hold the view that, by so doing, the will earn high reputation . However, we must remind these owners and heads that, they and their schools would loose reputation if the are caught.
Now, what could we do to avert this phenomena?
Proposals To Deal With WASSCE Examination Leakage Menace
In the first place, Edcuareguide believe that we should take a second look at the one sitting examination practice.
Really, if its possible, the final grade n SHS student gets in WASSCE should be determined by a continuous assessment system.
Now, even if there should be a final exams at all, it should carry a very small percentage of the overall marks the student attains.
Nevertheless, WAEC or other examining bodies can conduct a Nationally Standardized examination every semester or year to grade students over the three years Senior High School.
Thus the tension and anxiety surrounding the one sitting WASSCE and BECE examination would be neutralize.
Breaking WAEC's Monopoly
Secondly, if it is possible, the government of Ghana, through Parliament, should certify other examining body apart from WAEC.
These bodies, when certified, will also have the right to conduct a national standardized exams for Senior High School students and even for Junior High School BECE exams.
As a result, we will break the monopoly of WAEC and students will have other alternative exams to write apart form the WASSCE or the BECE.
Also, it should be possible to compile and summarize the continuous assessment records to compute a final score and grade for every student .
In this case, students will still have certificate without necessarily writing a WASSCE exams. Thus, the three years continuous assessment of student will determine their certificate after SHS.
However, students will have decide to write the WASSCE examination as a means to progress to the next level of the educational hierarchy.
The students who write and pass the WASSCE or its related exams would then be eligible for tertiary admission. Indeed, WASSCE should not be compulsory for every SHS student.
As African Education Watch has put it, the monopoly of WAEC should be broken.
The Following Might Also Interest You
Conclusion: 
I believe Educareguide has helped you to understand this subject matter. There are many other contents we have available to help you in your education.
If there is any contribution/comment/concern that you would want to make, it is warmly welcome on our site. Simply proceed to Login/Register to submit your post.
Please, subscribe to Educareguide   and contact us for further assistance for your education. Fill the contact form on the side bar to reach us.
Do not forget to pass a comment in the comment section below. We will gladly appreciate to know how you think about this article. Has it been helpful? What is do you need? Let's here from you. Thanks.