Follow Us On Social Media
As educareguide explores the area of home science, it would be necessary to elaborate on the concept of best home economics SHS in Ghana.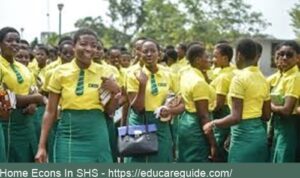 Surely, I'm going to give you a list of Senior High Schools in Ghana who excel in home economics. Now, why is this information so important to you?
As a matter of fact, ever secondary school in Ghana has a field of study that excels most, when it comes to WASSCE examination.
Thus, there are some Senior High Schools in Ghana which are science bias. In like manner, others are Art bias, whiles other schools are business bias, etc.
Specifically, for the purpose of this article, we will concentrate on home economics bias schools in Ghana which excel very well. Now find the list of schools below.
Check Out this:     General Prospectus for SHS – senior high schools in Ghana – This you need to buy for SHS admission or enrollment.
List Of Best Home Economics SHS In Ghana
There following Senior High Schools are known to be very good in home economics. Thus, I will recommend them for your children who have completed Junior High School.
Wesley Girls' Senior High School
Mfantsiman Girls Senior High School
St. Monica's Senior High School

Kwegyir Aggrey Secondary
Accra Girls Senior High School
St. Louis Senior High School
Apam Senior High School
University Practice Secondary SchoolCape Coast
Holy Child High School
T.I. Ahmadiyya Senior High School
Aggrey Memorial A.M.E Zion Secondary School
Wesley High School
Winneba Secondary School
Breman Asikuma Secondary
Swedru Senior High School
Ghana National College
Let's now focus our attention on the importance and significance of home economics to our lives. Certainly, you will find every detailed information below.
Importance Of Home Economics
Certainly, when we talk of home economics, the first thing that comes in mind is cooking of food.
However, I must say that home economics offers more benefits than just the cooking of food.
In fact, the field of home home economics is as wide as you can imagine. Interestingly, think of home economics as every facet of human life.
To clarify that, the field starts from as basic as the home or family to the multinational office in New York.
Subjects Related To Home Economic
Truly, the home economics sector encompasses so many subjects and courses in life. Now, all these subjects have their role an significance they play in life.
The following are some of the major subjects and courses which relates to the field of home economics.
Food and Nutrition
Clothing and Textiles
Management in Living
BFA Painting and Sculpture
CERAMICS (Industrial Art)
CERAMIC TECHNOLOGY (Industrial Art)
Metalsmithing and Jewellery Technology (Industrial Art)
Textile Design and Technology
Fashion Design
Integrated Rural Art and Industry
Publishing Studies
Branches Of Home Economics
The following are the branches under home economics
Fashion Design
Food and Nutrition
Home Management
Hospitality Management
You Might Have Interest In The Following As Well:
Conclusion:
I believe Educareguide has been of help to you with regards to your subject of concern. Also there are many other contents we have available to help you in your education.
Furthermore, if there is any contribution/comment/concern that you would want to make, it is warmly welcome on our site. Simply proceed to Login/Register to submit your post.
Now, please, subscribe to Educareguide and contact us for further assistance for your education. Finally, fill the contact form on the side bar to reach us.
Nevertheless, do not forget to pass a comment in the comment section below. Indeed, we will gladly appreciate to know how you think about this article. Thanks.
Share With Others