The management of the University of Ghana provides the UG MIS Web Login to assist students in performing essential tasks concerning their education. 
Usually, some UG students need help accessing the Legon students portal.
For this reason, our guide explains all the steps and details you need to know about the UG MIS Web Login platform.
Therefore, check out the links and the steps below to be able to:
First, how to open or register a UG student portal account if you do not have one;

Second, how to log in to the University of Ghana students portal;

Third, how to use the UG portal to check your results; and

Fourth, how to reset your login password to the Legon portal.
Click For The Summary Of This Guide
How To Open A UG Portal Account
After your admission into the university, you can go through the portal UG Student ID registration.
Therefore, you will use your UG student Registration Number to open your UG portal account.
This platform allows University of Ghana students to access vital information on the UG website regardless of location.
Meanwhile, find the University of Ghana student portal login below.
How To Login To Your UG Student Portal Page
The UG Student Portal Login Page – Here Is The UG E-Platform
Now let us learn how to login to the Legon Students Portal.
In this regard, follow these steps to sign in to the UG Ienabler online platform:
First, click 

here

 

to go to the University Of Ghana Student Login page;

Second, enter your UG student Number and PIN in the fields provided on the page;

Lastly, click the "Login" button below to sign in to the student Ienabler page.
Interestingly, you can use your portal to check your end-of-semester results.
Please find out how to check your result from the details given below.
Also, you can use the portal to perform tasks such as these:
Online or Virtual Learning
Student Password reset;
Check fee payment status and many others.
Alternatively, you can use the Apps ug edu gh platform to login to your UG student portal.
How To Reset UG Student Email Password
Assuredly, you can follow these UG Student Account Password Reset steps below:
After successful admission into the university, UG gives you a unique student ID number to log in to your student account.

Thus, you will use this Student ID number and your preferred PIN to log in to the UG student portal 

here

.

Also, your student credentials allow you to sign up successfully through the UG student portal. In this case, you should enter your Student ID Number and PIN.

If you have lost or cannot remember your PIN, click the "Forgot PIN Reset Here" button and follow the process

.

Subsequently, you can now login to your UG Mis web login every time with your Student ID Number and PIN as stated above.
UG Portal Account Login
Furthermore, the UG portal is available for you 24/7. In this regard, the UG online portal site is a complete IT innovation by Ghana University.
Indeed, the university tailors the UG student account information to your specific needs.
What are some of the information you can find in the portal?UG online resource area? We have captured some of them below.
How Do I Check My UG Result – Use The Link Below
The UG result portal lets you find out the details of your student results for the semester.
Thus students can check their results online by clicking here. The portal UG link guides you to check your result.
Therefore, you will find much other important information when logging in to your UG portal MIS login area. For example, you will find the following information:
Your student Details

UG Newsletters

Financial Details with the university

UG portal checker for Mid Sem results checking original

Courses registered for the semester
UG Portal For Distance Learning 
Indeed, we also capture UG distance learning students. Thus, you can log in to your UG student learning portal from here for distance learning students at UG.
You will find the UG distance portal result-checking link at the UG online students portal.
When you enter the student result link, you will find the details of your UG semester results.
As a matter of fact, after enrolling, you can use your student ID to log in.
Occasionally, students may ask: "How do I login to the University Of Ghana student Login portal? Now let's find the answer below:
You now have all the UG Mis web login information.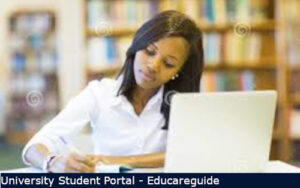 You Might Be Interested In The Following As Well:
Conclusion:
I believe Educareguide has helped you to understand this subject matter. Also, many other contents are available to help you in your education.
Furthermore, if there is any contribution/comment/concern that you would want to make, it is warmly welcome on our site. Proceed to Login/Register to submit your post.
Now, subscribe to Educareguide and contact us for further assistance with your education. Finally, please fill out the contact form on the sidebar to reach us.
Nevertheless, do not forget to comment in the comment section below. Indeed, we will gladly appreciate knowing what you think about this article. Thanks.