Many University of Cape Coast students keep sending the question "When Is UCC Reopening 2023 academic year"? Check out the answer below.
For this reason, Educareguide finds it necessary to address the concerns of many students – both continuing and prospective.
So what lead to the delay and postponement of the university calendar? Let's find out about that below.
When Will UCC Online Registration Of Courses Start?
UCC students should start registering for their second-semester courses online on Friday, 8th July, 2023.
As always, this ritual preceded the reporting day for students.
Unlike the first semester, both first-year and Continuing students will start arriving on the same date.
Let's find out when UCC is Reopening the 2023 academic year below.
Reopening Date For UCC – University Of Cape Coast
Interestingly, the University Calendar in Ghana is gradually becoming normal.
From the time of the global pandemic to now, things are taking shape for the school schedule.
In this regard, UCC will reopen the 2023 academic year second semester on Saturday, 16th July 2023.
Meanwhile, UCC students must begin their online registration of courses on Friday, 8th July 2023, ahead of the day of reporting.
Find out other information about the 2021-2023 academic year below.
You Might Have Interest In The Following As Well: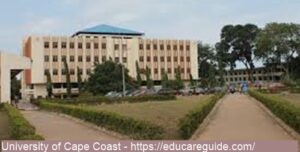 Conclusion:
I believe Educareguide has been of help to you concerning your subject of concern. Also, there are many other contents we have available to help you in your education.
Furthermore, if there is any contribution/comment/concern that you would want to make, it is warmly welcome on our site. Thus, proceed to Login/Register to submit your post.
Now, please, subscribe to Educareguide and contact us for further assistance for your education. Finally, please fill the contact form on the sidebar to reach us.
Nevertheless, do not forget to pass a comment in the comment section below. Indeed, we will gladly appreciate knowing how you think about this article. Thanks.