Follow Us On Social Media
Many Kwame Nkrumah University Of Science And Technology students keep sending the question "When Is KNUST Reopening 2020/2021 academic year"?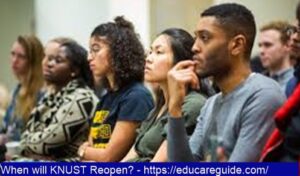 For this reason educareguide finds it the need to answer this concern of many students – both continuing and prospective.
So what really lead to the delay and postponement of the knust calendar year? Let's find out about that below.
Effect Of Covid-19 On KNUST Reopening Date
Obviously, as we are all aware that, almost every academic or educational institution in the world has been hit by the covid-19 pandemic.
As a result government across the globe issued directives to educational institutions to suspend their operations.
Also, the government of Ghana ensured that the universities continued their academic work online. Furthermore, the students wrote their exams successfully to complete the 2020/2021 academic.
Let's now find out about When KNUST is Reopening 2020/2021 academic year below.
Reopening Date For KNUST – Kwame Nkrumah University Of Science And Technology
As a matter of fact, the government of Ghana wants to make sure that the universities in the country adhere to all covid-19 protocols, as universities prepare to reopen.
Thus, KNUST reopening 2020 academic year is dependent on certain key factors. In the same way, knust reopening date is also dependent on the same condition.
Now to be able to ensure the university's preparedness for knust reopen date 2020/2021 academic year, a lot of arrangements have been put in place. 
In fact, KNUST will reopen on Saturday, 9th January, 2021. Certainly, this is according to the President of the Republic of Ghana's announcement on Sunday, 3rd January, 2021. Truly, this date is a postponement of the old date of  November, 2020.
Therefore, the management and students at Kwame Nkrumah University Of Science And Technology – KNUST must prepare themselves well to adhere to all covid-19 protocols laid down to reopen the university on 9th  January, 2021.
Notably, knust reopening date for freshers 2020 would be a week earlier, before knust reopening date 2020/21 for continuing students. Find out other information about knust reopening date for 2020/2021 academic year below.
You Might Have Interest In The Following As Well:
Conclusion:
I believe Educareguide has been of help to you with regards to your subject of concern. Also there are many other contents we have available to help you in your education.
Furthermore, if there is any contribution/comment/concern that you would want to make, it is warmly welcome on our site. Simply proceed to Login/Register to submit your post.
Now, please, subscribe to Educareguide and contact us for further assistance for your education. Finally, fill the contact form on the side bar to reach us.
Nevertheless, do not forget to pass a comment in the comment section below. Indeed, we will gladly appreciate to know how you think about this article. Thanks.
Share With Others