Follow Us On Social Media
In this guide, we've taken my time to explain every Step by Step Detail you need to know about the KNUST Student Portal Login Page, the KNUST App Portal, KNUST AIM, etc.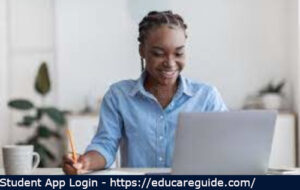 Certainly, the Knust Student Portal Login App helps you to:
Pay Your Fees;
Register you courses for the semester;
check your result; And
Do Many More Things With Your KNUST Student App.
Thus, find out how to perform all of these above tasks below.
Indeed, university education education keeps drifting to online as our current world continues to gets virtual.
As a result, it is incumbent on every student to know and understand all the online resources and platforms put in place for smooth online university education.
Certainly, it is for this reason why Educareguide will take you through all the information you need concerning the newly upgraded knust portal app, known as the KNUST AIM
Also, in this guide, you will learn the various tasks you can perform with the app as the benefits of the knust AIM.
KNUST APPS Portal Download Page.
Surely, when you download the KNUST APP, it makes it easier for you to always access your student information at knust.
Emphatically, the Knust Android app login process is almost the same as the knust web login process.
Thus, after you've downloaded the app, you will lunch the app for the first and login in order to perform certain task regarding you university education at knust.
Meanwhile, remember that the app also on IOS, and we will definitely update you when the Windows app is also lunched.
In fact, if you don't have the app, then click HERE to download the KNUST AIM.
Now, let's find out what and what you can do on the knust aim app login page below.
KNUST AIM App Tasks
As a matter of fact, the Knust Academic Information Manager – AIM is a management information system designed by the university for both students and lectures (Staff).
After downloading the knust app portal, you will to login. In order to login, just use these steps to login to the knust AIM:
First, enter your Knust Student ID Number in the field provided and
Secondly, click on the "Login" button located below to sign in to the KNUST student account page.
Indeed, among many other things that you can do with your knust AIM the following:
Register your courses for the semester
Check your knust semester result online
Edit your personal records at KNUST
Get access to news about knust
Be alerted with Notification on very important update from knust
Get Instant messages from knust
Check your fees and download your account transaction with the university
Pay Knust Fees With The KNUST Mobile App
Now, how do I pay my Knust fees on the Knust Mobile App?
Surely, the knust Fee paying section on the app page makes it easier for you to pay your school fees at knust.
Indeed, you can pay your knust fees Mobile Money or Debit Card. Go on the AIM.
After visiting the knust fee payment section on the App, just select your payment option and follow the steps there of.
Web Login Page – KNUST Student Portal
Now, for those of you who prefer you login through the Web, your are definitely not left out.
Thus, follow the these steps to login to your knust student portal account with your computer or tablet:
First visit the knust portal login page HERE.
Secondly, enter your Username, Password and Student ID in the fields provided and
Lastly, click on the "Login" button to sign in to your knust student student.
Remember, you can perform the same tasks on the web page just as you can on the knust mobile app.
However, click HERE  if you are looking for the knust online lecture platform for students and lecturers or the knust e learning portal login page.
Likewise, for your knust online examination, click HERE to login and have your knust exams online.
You Might Have Interest In The Following As Well:
Conclusion:
I believe Educareguide has helped you to understand this subject matter. Also there are many other contents we have available to help you in your education.
Furthermore, if there is any contribution/comment/concern that you would want to make, it is warmly welcome on our site. Simply proceed to Login/Register to submit your post.
Now, please, subscribe to Educareguide and contact us for further assistance for your education. Finally, fill the contact form on the side bar to reach us.
Nevertheless, do not forget to pass a comment in the comment section below. Indeed, we will gladly appreciate to know how you think about this article. Thanks and have a great day.
Share With Others