Follow Us On Social Media
Students willing to apply for a credible international professional qualification will definitely need to consider Cambridge International College prospectus 2021. Thus, find out the full guide on how to enrol at Cambridge International College below.
Indeed Cambridge International College is a professional educational institution that is well accredited to offer a wider range of educational programs for students at every corner of the world.
In fact, the testimony of many employees and employers across the globe speaks positive of the goodwill of Cambridge College.
Thus, it will not be out of place to enrol in CIC. However, many prospective students wonder how they will go about with the enrolment procedure.
To clarify that to you, educareguide has put together this article to guide every student on How To enrol In Cambridge International College. Now find out the details below.
Cambridge International College Application Form?
There are certain important things in the Cambridge International College Prospectus you should note in order to start your Cambridge International College application. Thus find out these critical things below.
As a matter fact, there are two ways you can enrol – Manual enrolment and Online enrolment. First, lets look at the Manual enrolment.
For manual enrolment, you have to download and print the Cambridge International College Manual Registration Form.
Next, fill it with all the details needed and submit it to Cambridge International College Headquarters in Britain. Now, let's look at how to enrol in CIC using the  online application form.
How To enrol At Cambridge International College – Online Application Form
The procedure for filling Cambridge International College Online Enrolment Form are given below:
Firstly, visit the homepage of Cambridge International College
Secondly, select the course category you want to pursue. Examples that you will find there are: Accounting, Finance, Banking; Hotel, Tourism, Travel, Hospitality, Events; Marketing, Sales and Advertising; Personnel, HR, Organization; Etc.
Thirdly, proceed to choose your preferred study level. In detail, the study levels includes: Certificate, Diploma; Honours (Higher) Diploma; Mastery of Management Graduate Diploma; Advance Business Administration (ABA); Baccalaureate; Executive Business Administration (EBA); and Executive Mastery of Business Administration;
Fourthly, click on the GO button and it will take you to the CIC enrolment or registration portal. Now you can follow the process to fill the form.
Now, there are certain key things you need to know about how to critically examine in the Cambridge International College Prospectus for admission.
Indeed, you should take these important areas on the application form very serious.
Thus, Educareguide explains every details to you for your understanding. First lets take a loo a the various study levels and programs provided by CIC
Study Levels Of Programs Offered By Cambridge International College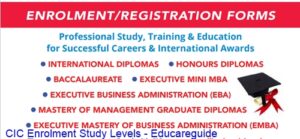 Surely, you will find various levels of study as contained in the Cambridge International College Prospectus 2021. Obviously, we have already explained these study level above. Emphasizing the study levels again, we have
Certificate,
Diploma;
Honours (Higher) Diploma;
Mastery of Management Graduate Diploma;
Advance Business Administration (ABA);
Baccalaureate;
Executive Business Administration (EBA); and
Executive Mastery of Business Administration;
Now just scroll the form to your preferred study level and tick (√) your choice of program.
Cambridge International College – Fees Payment Options

Secondly, proceed to chose your preferred payment terms as provided on the enrolment form. Cambridge International College has two main payment terms.
First, the one time full payment and
Secondly, the installment payment terms.
Therefore, you can choose any of them. Furthermore, quote the amount you are paying in the space provided after the Word "Either" if you are making a one time payment and after "OR" if you are making an installment payment.
Cambridge International College Fee Payment Methods

Thirdly, select you mode of payment. Indeed, there are several payment options available for Cambridge students worldwide. Thus you can choose from among the following payment options:
Bank Transfer;
Bank Draft (IMO);
British Postal Orders;
Currency Notes;
Western Union 10-digit MTCN;
Paypal;
Credit/Debit Cards;
And others, as accepted by CIC.
Cambridge International College Application Form 2021
You will need to enter your personal details and other relevant information on the CIC application form.
Next, you need to enter your personal details.
All the details are supposed to be entered in CAPITAL LETTERS. You must enter the following details under this section:
Full Name: – Enter the name that you will want to appear on your certificate
Full Address: – Also, enter the address that CIC will send all your study and official materials.
Email Address: – Also, key in your email address where CIC can send you newsletters and other realtime information.
Next, provide YES or NO weather you have studied such a course or program before:
Again, enter YES or NO if you have any practical experience on the subject area.
Now, provide information on your presently held job position.
Next, describe it, if you have any need that you would want the college to be aware of.
Also, provide your "Nationality" and "Age".
Lastly, sign and approve the terms and conditions of the college. Furthermore, provide the membership number of the person who introduced you to Cambridge International College. However, leave it blank if no one introduced you.
Other important Information You Need To Know
Furthermore, the following information are relevant as far as CIC enrolment is concerned.
Chapter One of Study Manual:
Immediately you complete the application form and it is approved, CIC will give you access to to the chapter one your study manual.
Mid- Training Progress Test:
In addition, Cambridge offers you the opportunity to write a a mid-training progress test. Definitely, the test will offer you the chance to assess your readiness for the main examination.
However, the mid-training progress test is not compulsory. Also you will pay for the mid-training test if you opt for it.
Study Guide and Materials:
The registration fees you pay covers the cost of your study manual. Therefore, you do not need to pay any extra money for your study manual.
Furthermore, upon payment of your enrolment fees, CIC will ship or mail your study materials to you. Thus, your package will include every study material you need to succeed in your program.
Member Service Login Portal:
Moreover, upon payment and registration, you will be given a special member service login portal on the Cambridge International College Website.
In that case, you can login to download the first chapter of your study manual. Also, you will find every detail of your studies with Cambridge International College in your membership area.
Now, what some of the information you will find in your Cambridge International College membership login area? Let's find it below:
Details You Will Find Your Membership Service Of Cambridge International College.
Some of the details you will find includes:
Your personal Membership Details,
Study Material Despatch Details,
Examination Results,
CIC Newsletters, Literature,
Free Study Modules, Study & Training Information, and more
You Might Have Interest In The Following As Well:
Conclusion:
I believe Educareguide has helped you to understand this subject matter. There are many other contents we have available to help you in your education.
If there is any contribution/comment/concern that you would want to make, it is warmly welcome on our site. Simply proceed to Login/Register to submit your post.
Please, subscribe to Educareguide  and contact us for further assistance for your education. Fill the contact form on the side bar to reach us.
Do not forget to pass a comment in the comment section below. We will gladly appreciate to know how you think about this article. Has it been helpful? What is do you need? Let's here from you. Thanks.
Share With Others