If you have applied for admission at Egerton University, then use the Egerton University Admission Portal platform and guide below to complete and finalize your admission process at Egerton University.
Thus, this guide will teach you how to complete the admission procedure at Egerton University university by giving you a direct link to all the student portals you should know.
Periodically, you may want to check up on the admission application you submitted to Egerton University.
In as much as the EU will notify you by Mail whether your application is successful, it is still prudent to use these steps below to follow up on the online application that you sent to Egerton University.
Click For The Summary Of This Guide
How To Find Your Egerton University Admission Letters
Likewise, you can use the portal to complete the admission process at Egerton University. 
In other words, you can use the Egerton Admission Portal to check your admission letter, download it, and print it.
Indeed, checking up on your Egerton University admission application process is essential.
For this reason, you should know about the Egerton Admission Checker portal page.
Thus, on the Egerton admission checker login page, you can verify whether Egerton University has admitted you.
If you have applied for admission at Egerton University, then follow these steps to follow up on your online application at Egerton University:
First, click here to go to the first year's portal at Egerton University.
How To Download Your Egerton University Admission Letter
Indeed, you can follow these simple steps to download your Egerton Admission Letter online:
If you want to download your admission letter, click the "CLICK HERE TO DOWNLOAD YOUR LETTER" button on the open page.

Now, the page below will open: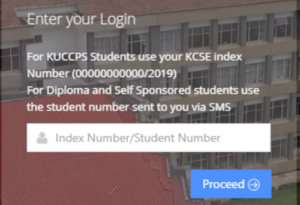 Next, enter your Index Number or Student Number in the field provided on the page;

From there, you will click on the "Proceed" button below to check your letter and download it.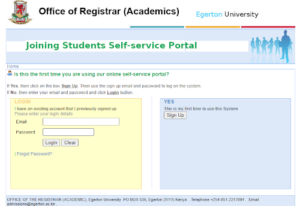 Now, click the "sign up" button on the right of the page to start the Egerton Student Self Service Registration process.
Fourthly, type in your details in the Empty Fields that opens on the Egerton University Student Account Sign Up Section.
Lastly, click the "Sign Up" button to finish the Egerton Student portal account creation process.
Remember that you will use the verify.egerton.ac.ke login page to verify the account that you create at Egerton University.
How To Login To Your Egerton SelfCare Account
If you have already created your Egerton Student Login account, use these steps to sign in to your Egerton University Selfcare login page:
First, Click

here to go to the Egerton SelfCare Sign-In Page

Secondly, Enter your Egerton Student Email Address and Password in the fields provided.

Lastly, click on the "Login" button to sign to the Egerton Online Platform.
The Selfcare Egerton ac ke webpage is designed so that you can perform several activities for yourself at Egerton University.
To check your Egerton exam result, click here to login to your Egerton University Student portal.
Likewise, click here to attend lectures online on the Egerton E learning Portal Login page.
You Might Have Interest In The Following As Well:
Conclusion:
I believe Educareguide has helped you to understand this subject matter. Also, our website has much more information to help you in your education.
Furthermore, if there is any contribution, comment, or concern that you would want to make, it is warmly welcomed on our site. Simply proceed to Login or Register to submit your post.
Now, subscribe to Educareguide and contact us for further assistance with your education. Finally, fill out the contact form on the sidebar to reach us.
Nevertheless, do not forget to pass a comment in the comment section below. Indeed, we will gladly appreciate knowing what you think about this article. Thanks.