Here is a compilation of Nursing Training Colleges In Ghana which offer an array of Nursing, Midwifery and other health programs to students.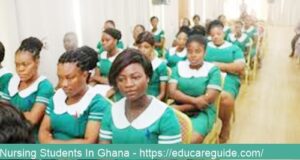 For a prospective applicant of any of the nursing institutions listed below, it important to know which options are available to you when it comes to selecting a good nursing college to attend.
For this reason Educareguide regularly compiles and updates the list of tertiary institutions that that offer nursing courses to students in Ghana.
Certainly you will find the complete list of nursing colleges which you can apply for admission from in the list below.
What Is The List Of Nursing And Midwifery Training Colleges In Ghana?
Educareguide has a full list of Nursing and Midwifery colleges below:
37 Military Hospital Nurses Training College-Accra-Greater Accra
Nursing and Midwifery Training College-Pantang-Accra-Greater Accra
Agogo Nursing Training College-Ahanta West-Ashanti
Ankaful Nursing Training College-Cape Coast-Central
Asanteman Nursing and Midwifery Training College-Amansie East-Ashanti
Bawku Nurses' Training College-Bawku-Upper East
Berekum Nursing and Midwifery Training College-Berekum-Brong Ahafo
Bolgatanga Nursing Training College-Bolgatanga-Upper East
Bolgatanga Midwifery Training College-Bolgatanga-Upper East
Cape Coast Nursing and Midwifery Training College-Cape Coast-Central
Christian Healthcare Training School-Breman Asikuma-Central
College of Integrated Healthcare-Obuasi-Ashanti
Community Health Nurses' Training College-Esiama, Takoradi-Sekondi
Community Health Training College Winneba-Winneba-Central
Fomena Community Health Training College-Fomena-Central
Ho Nurses' Training College-Ho-Volta
Holy Family Nurses Training College-Volta-Volta
Holy Family Nursing Midwifery Training School-Nkawkaw-Eastern
Jirapa Nurses Training College-Jirapa-Upper West
Jomkionr-Ashanti-Ashanti
Surely, we will update the above list from time to time. Thus, stay clued to our website and bookmark it.
Where To Buy The Admission Forms Of Nursing Training Colleges In Ghana
Certain, nursing colleges sell their admission forms at the administration office of the university. Also, some of them sell an admission voucher which you can buy from Ghana Commercial Bank (GCB Bank Ltd), and other major banks across Ghana.
Furthermore, you may buy Nursing admission forms or voucher from Ghana Post Offices across the country. Note with caution that, it is the Nursing and Midwifery Council – NMC – that certifies and accredits nursing and midwifery institutions in Ghana.
You Might Have Interest In The Following As Well:
Conclusion:
I believe Educareguide has been of help to you with regards to your subject of concern. Also there are many other contents we have available to help you in your education.
Furthermore, if there is any contribution/comment/concern that you would want to make, it is warmly welcome on our site. Simply proceed to Login/Register to submit your post.
Now, please, subscribe to Educareguide and contact us for further assistance for your education. Finally, fill the contact form on the side bar to reach us. Nevertheless, do not forget to pass a comment in the comment section below. Indeed, we will gladly appreciate to know how you think about this article. Thanks.