Educareguide has given you a comprehensive details about the question – how do I apply online for UCC admission?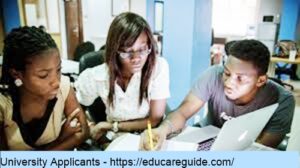 Surely, it doesn't come as a surprise to me when people enquire about University of Cape Coast Admission.
This is because, UCC is a very reputable university in Ghana and Africa.
Also, UCC offers very modern courses and programs for its students.
Now the question is – how do I go through the UCC online application process. Let's find about that below.
Things You Need To Fill The University Of Ghana Online Application Form
First, you need a Computer. Thus, it can be a desktop or a laptop.
Secondly, you need an internet connection. You must have a very good and stable network to fill and send the application.
Thirdly, you need a printer to be connected and installed on the computer. In fact, check if the printer is working perfectly, before you start the application process.
Now, how do you actually go through the online application process of UCC?
Find the details of the process below.
How Do You Apply To UCC – UCC Online Voucher
You will go through the university application processes using an Online Voucher.  
When you purchase the UCC voucher, it enables you to login into the application portal of the university to start the application process.
Click HERE to start the UCC application process and steps.
Furthermore, there are important things you must know and have in place before you proceed with the University enrollment process.
Now lets Look at those facilities you need in place.
What Is The Closing Date For UCC Forms Submission
The UCC Deadline For Submission Of Application Forms is on 29th May, 2021.
Applicants must fill the following information at the back of the envelop when submitting application forms:
application reference number
full name
postal address
first choice programme and
application category. When we mention application category, it should be one of the following:
SSSCE/WASSCE
Post-Diploma
Post First Degree
OTHER (to be specified by applicant).
You Might Have Interest In The Following As Well:
Conclusion:
I believe Educareguide has been of help to you with regards to your subject of concern. Also there are many other contents we have available to help you in your education.
Furthermore, if there is any contribution/comment/concern that you would want to make, it is warmly welcome on our site. Simply proceed to Login/Register to submit your post.
Now, please, subscribe to Educareguide and contact us for further assistance for your education. Finally, fill the contact form on the side bar to reach us.
Nevertheless, do not forget to pass a comment in the comment section below. Indeed, we will gladly appreciate to know how you think about this article. Thanks.